As a member of the TECH-NET Professional program we agree to: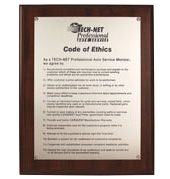 Recommend corrective and maintenance services and explain to the customer which of these is required now to correct existing problems and which are for preventive maintenance.


Offer customers a price estimate for work to be performed.


Obtain prior authorization for all work done, in writing or by other means satisfactory to the customer.


Make every effort to keep the customer informed about appointments and completion deadlines.


Furnish an itemized invoice for parts and services, priced fairly, which clearly identifies any used or remanufactured parts. Replaced parts may be inspected upon request.


Furnish or post copies of any warranties covering parts or service. Use quality Advance Auto Parts auto parts, guaranteed coast to coast.


Provide and honor Advance Auto Parts manufacturer warranties.


Exercise reasonable care for the customer's property while it is being serviced.


Make every effort to fix the customer's vehicle right the "first time".


Maintain a system for fair settlement of customer's complaints.


Cooperate with established consumer complaint mediation activities.


Uphold the high standards of the profession and seek to correct any or all abuses within the automotive industry.


Testimonials
Jason W.

, 08/19/2016
Mike is a honest, hard working, and A family man. When I first moved to Oxnard From Santa Cruz. I had no idea who to take my old ford ranger truck to. Hard to find a good mechanic in the area. i took it to Titos. He replaced radiator, water pump, and thermostat for a great price. 6 mo. Later the water pump went out on me, and he replaced it free of charge. All his parts are under warranty. Then a hose broke and I thought my truck was done. Came back again it was only $50. Mike is a Solid guy. doesn't try to rip u off, and way cheaper than going to a dealership.He tells you exactly what's wrong, and doesn't try to fix things that aren't necessary. I took it to marios across the street and they told me I had a cracked head gasket(1800) and that wasn't including rad, pump, stat. Took it to Mike and said they were lying n there was no cracked head. He told me if I ever have problems to come see him. Thanks Mike! His team were very nice too. A++ FIVE STARZ. Highly recommend.
view all reviews