Tito's Automotive Perfection Center, Oxnard's Best Auto Repair Services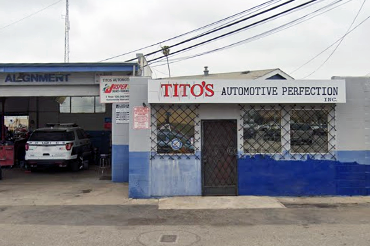 Get honest, expert, auto repairs and professional service today at Tito's Automotive Perfection Center. Our goal is to offer the best auto services available at reasonable prices. Call today to schedule an appointment at 805-486-9025.
"Can You Fix It Today?"
We know your time is valuable. That's why we are conveniently located near you in Oxnard, CA. Most truck or car maintenance services can be done while you wait. Many repairs can be completed in as little as one day. Simple or complex, we will get your auto repairs done quickly and get you back on the road in no time.
"Honestly, How Much Will It Cost?"
Since 1985, Tito's Automotive Perfection Center has provided Oxnard area customers with easy to understand estimates before beginning any work. Ask us about options to keep auto repair costs low or upgrades to keep your car running at peak performance. We stand behind all of our work with a guarantee you can take to the bank. Call today to schedule an appointment at 805-486-9025.
"You Are The Best Auto Repair Shop In Oxnard!"
Our customers say they can't find the same level of expertise that our auto mechanics provide anywhere else! Our certified technicians and experienced auto repair specialists provide 5-star service on domestic and import vehicles of all makes and models.
Call today to schedule an appointment at 805-486-9025 or email us.
Discover What We Do!
4x4 Services, AC Repair, Alignment, BG Protection Plan, BG Roadside Assistance, Brakes, Car & Truck Care, Domestic Cars & Trucks, Electric and Hybrid Vehicle , and Electrical Services
Tito's Automotive Perfection Center offers auto repair services you can count on!
Vehicle
tips
According to recent studies, 5 percent of all motor vehicle fatalities are clearly caused by automobile maintenance neglect.
Testimonials
Jason W.

, 08/19/2016
Mike is a honest, hard working, and A family man. When I first moved to Oxnard From Santa Cruz. I had no idea who to take my old ford ranger truck to. Hard to find a good mechanic in the area. i took it to Titos. He replaced radiator, water pump, and thermostat for a great price. 6 mo. Later the water pump went out on me, and he replaced it free of charge. All his parts are under warranty. Then a hose broke and I thought my truck was done. Came back again it was only $50. Mike is a Solid guy. doesn't try to rip u off, and way cheaper than going to a dealership.He tells you exactly what's wrong, and doesn't try to fix things that aren't necessary. I took it to marios across the street and they told me I had a cracked head gasket(1800) and that wasn't including rad, pump, stat. Took it to Mike and said they were lying n there was no cracked head. He told me if I ever have problems to come see him. Thanks Mike! His team were very nice too. A++ FIVE STARZ. Highly recommend.
view all reviews